BEAUTY RITUAL
Throughout history plant oils have always been an important part of the beauty world. From the Far East to the Mediterranean, they have been used on the skin and hair as valuable ingredients in ancient beauty rituals for their antioxidant, emollient and protective properties..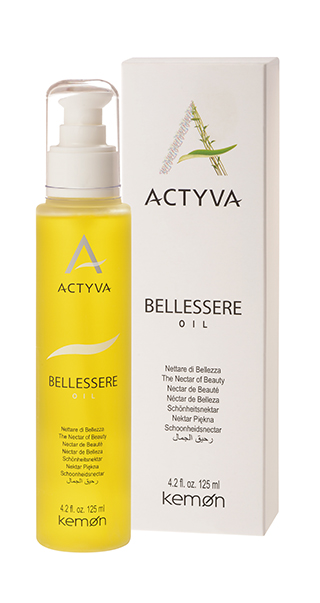 NECTAR FOR ALL HAIR TYPES
Drawing inspiration from the Mediterranean tradition of using oils as a key part of beauty treatments,ACTYVA has created BELLESSERE OIL, a precious combination of natural oils that nourish, repair, and protect the hair fibre making hair smooth, soft, lustrous and easy to comb. Its very light texture and delicate sense-awakening fragrance make Bellessere Oil a true beauty elixir for every type of hair.
Treatment after treatment, the hair regains its natural beauty. Versatile Bellessere Oil, which can be used for a variety of purposes, makes it possible to complete, enhance and highlight any Actyva treatment at the salon, creating new, customised Beauty and Wellness rituals.
Size: 125 ml